Most of us who love to come downtown would prefer the ability to park right in front of our destination of choice. Once in a while we can.  Often, we must park just down the block or 2 away and walk.
Click here for a downtown parking map and guide.
Click here for details about the pay-by-plate parking pay stations in the off-street parking lot.

Click here to pay a parking citation. 
To contest a parking citation, following the prompts on the screen. You will receive a response within 14 days via email. Failure to pay citations promptly within 14 day after receiving a citation, may result in extra late fees being attached or your vehicle being towed.   
Our area of parking enforcement is the historic downtown area of Idaho Falls from the Yellowstone Highway to Memorial Drive and Cliff Street to D Street.   If you have received a citation outside of this area, please contact the City of Idaho Falls Treasure office to pay your citation – 308 Constitution Way, Idaho Falls, ID 83402  Hours: 8AM – 5 PM   Phone: (208) 612-8217.
Click here to apply for a Temporary Construction Permit.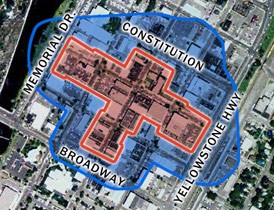 This illustration shows the footprint of the Grand Teton Mall (in red) overlaid on top of our historic downtown. Consider that a stroll from one end of the mall to the other is the same distance as walking from Yellowstone Highway to Memorial Drive. Walk the mall in the other direction and it is the same distance and walking from Constitution Avenue over to Broadway.
   TWO-HOUR PARKING
Most on-street parking around downtown is limited to two hours. If you are making a short trip downtown, open spaces are abundant, but you may have to park around the corner from your destination. If so, you can enjoy a stroll along some of our historic streets.   If you park, leave and come back a few hours later your two-hours of free parking will have expired for that block.  You are only allowed 2 hours per block per day and you time starts when you first park and your vehicle is scanned.   Park in the next block when you come back.  There are 20-minute loading zones at every intersection that you can use for quick trips.   These are available for anyone to use. 
FREE ALL-DAY PARKING
There are several free all-day parking lots around the downtown area. Lots are located off Yellowstone Ave along the railroad, behind the buildings south off Broadway between Shoup & Park (the first few rows are 2 hour parking – please look for signs), most streets north of Constitution.  Please look at the parking guide map. 
PAY TO PARK LOTS – OPEN 24/7
The IFDDC operates five pay-to-park parking lots in the heart of downtown – B Street East Lot  is at 451 B Street (the B Street West lot is now Bonneville County permit only parking Mon – Fri 8:00am to 6:00pm then opens for pay to park after 6:00pm and all day on weekends near the south east corner of Capital and B Street); the second and third lots are our N. Capital Avenue Reserved lot (on the south side with reserved signs hanging on the chain – hourly parking is not allowed there) and the Capital #2 lot (directly north of the Reserved lot) both of which are on the west side of Capital Avenue; the fourth is along the Yellowstone Highway between A and B Streets and the fifth parking lot is between Broadway and A Street behind Smokin' Fins, the Rib & Chop House and Lucy's Pizza.
Parking is $1 per hour or $5 for a one day pass. These fees can be paid at the pay station with a card, coins or through the app on your phone.  Monthly permits can be obtained for $40 or you can be put on a waiting list if none are currently available. Call us at (208)535-0399 if you are interested in a monthly permit.  Overnight parking is not allowed without permission.
This residential permit is not valid for parking in the 2-hour parking spaces on the streets or in our Pay-to-Park lots. The cost of each permit is $50.00/annually. Only one (1) permit per licensed driver is allowed. The permit must be displayed in the vehicle so it is visible from outside the vehicle, whenever they are parked in the designated city parking lot. It is unlawful to transfer or allow another person to use this permit. Contact 208-535-0399 for more information.
Greater Idaho Falls Transit (GIFT)  –  The "micro-transit" program has on-demand rides with multi-passenger vehicles rather than having the traditional model with buses on scheduled routes.  Schedule a ride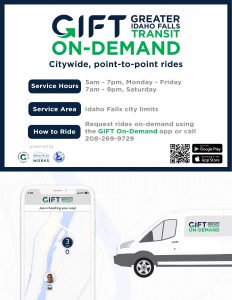 New phone # 208.999.4438 as of November 1, 2022