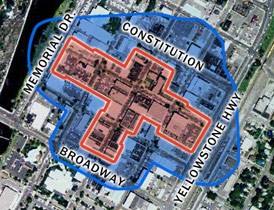 TWO-HOUR PARKING
Most on-street parking around downtown is limited to two hours. If you are making a short trip downtown, open spaces are abundant, but you may have to park around the corner from your destination. If so, you can enjoy a stroll along some of our historic streets.
Received a parking ticket? What next?


FREE ALL-DAY PARKING
There are several free all-day parking lots around the downtown area. Lots are located off Yellowstone Ave along the railroad, behind the buildings south off Broadway between Shoup & Park (the first few rows are 2 hour parking – please look for signs), most streets north of Constitution, corner of D Street and Park and across the street on D Street, corner of E Street and Capital and on the corner of Constitution and Shoup.