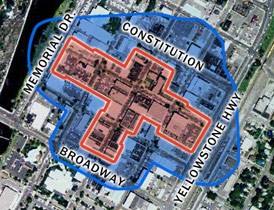 TWO-HOUR PARKING
Most on-street parking around downtown is limited to two hours. If you are making a short trip downtown, open spaces are abundant, but you may have to park around the corner from your destination. If so, you can enjoy a stroll along some of our historic streets.
 If you park, leave and come back a few hours later your two-hours of free parking will have expired for that block.  You are only allowed 2 hours per block per day and you time starts when you first park and your vehicle is scanned.   Park in the next block when you come back. 

20-minute loading zones exist at every intersection that you can use for quick trips.   These are available for anyone to use. 
Our area of parking enforcement is the historic downtown area of Idaho Falls from the Yellowstone Highway to Memorial Drive and Cliff Street to D Street.   If you have received a citation outside of this area, please contact the City of Idaho Falls Treasure office to pay your citation – 308 Constitution Way, Idaho Falls, ID 83402  Hours: 8AM – 5 PM   Phone: (208) 612-8217.
Received a parking ticket? What next?


FREE ALL-DAY PARKING
There are several free all-day parking lots around the downtown area. Lots are located off Yellowstone Ave along the railroad, behind the buildings south off Broadway between Shoup & Park (the first few rows are 2 hour parking – please look for signs), most streets north of Constitution, corner of D Street and Park and across the street on D Street, corner of E Street and Capital and on the corner of Constitution and Shoup.