Parking
Parking in Historic Downtown ~ Most of us who love to come downtown would prefer the ability to park right in front of our destination of choice. Once in a while we can. Often we must park just down the block or 2 block away and walk.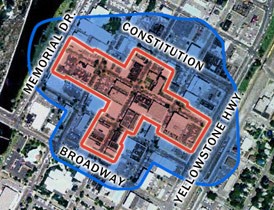 This illustration shows the footprint of the Grand Teton Mall (in red) overlaid on top of our historic downtown. Consider that a stroll from one end of the mall to the other is the same distance as walking from Yellowstone Highway to Memorial Drive. Walk the mall in the other direction and it is the same distance and walking from Constitution Avenue over to Broadway. Yet, most mall patrons and workers do not complain about walking so far. So the next time you come downtown to work, shop, or play, try to keep a positive attitude and pause to enjoy your stroll through beautiful historic buildings and wonderful shops.
TWO-HOUR PARKING
Most on-street parking around downtown is limited to two hours. If you are making a short trip downtown, open spaces are abundant, but you may have to park around the corner from your destination. If so, you can enjoy a stroll along some of our historic streets.
FREE ALL-DAY PARKING
There are several free all-day parking lots around the downtown area. Lots are located off Yellowstone Ave along the railroad, behind the buildings south off Broadway between Shoup & Park (the first few rows are 2 hour parking – please look for signs), most streets north of Constitution, corner of D Street and Park and across the street on D Street, corner of E Street and Capital and on the corner of Constitution and Shoup.
PAID PARKING
The IFDDC operates three 'pay to park' parking lots in the heart of downtown – two are at 451 B Street (near the corner of Capital and B Street) and the third is along the Yellowstone Highway between A and B Streets. Our Capital Lot is reserved permit parking only and hourly parking is not available in that lot.
Parking is $1 per hour up to a maximum of $5 per day. Pick up an envelope with attached ticket when you drive into the lot.  Place the envelope on the dash board of your vehicle and take the ticket with you to be stamped with validation stamps.  Validation is available from several downtown businesses – there is a list of businesses that validate on the windows of the parking lot booths and below. You will need one validation stamp on your ticket for every hour of parking. Monthly passes can be obtained for $35. Call us at (208)535-0399 if you are interested in a monthly pass.
Downtown Businesses that validate for parking:
Arts Council  *  Bella Capelli Salon  *  Bybee's  *  Dave Bramwell Chiropractic   *  Ford's Bar
Healing Hands  *  Hopkins Roden  *  Idaho Mountain Trading  *  Jimmy's All Season Angler
Lily's Selected Consignments  *  Metamorphosis  *  O'Brien Tomchak  *  Pachangas  *  Raymond James    Shoup Office Suites  *  T&T Reporting  *  The Hair Company  *  Urban Nook Salon  *  WeeBee Toys    Yarn Connection
RESIDENT PARKING PERMIT IS AVAILABLE
Bona-fide residents of the downtown area may apply for a permit which will exempt them from any two-hour parking limit established for parking spaces within the off-street City owned parking lot. This permit is not valid for parking in the 2-hour parking spaces on the streets or in our Pay-to-Park lots.  Please talk to the city as to where the lot is that allows you to park with the city permit.  The cost of each permit shall be $15.00. Only one (1) permit per licensed driver is allowed. The permit must be displayed in the vehicle so it is visible from outside the vehicle, whenever they are parked in a two-hour parking space in this lot. It is unlawful to transfer or allow another person to use this permit. These can be purchased at City Hall.