Art You Can Sit On
ACROSS THE COUNTRY, DOWN-TOWNS ARE EXPERIENCING A RENAISSANCE OF GREAT MUSIC, ART, MUSEUMS AND BREATHTAKING RENOVATIONS OF BEAUTIFUL OLD BUILDINGS.
OUR NEWEST ADDITION IS "ART YOU CAN SIT ON"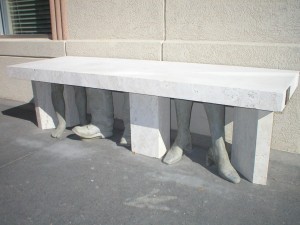 Hanging out downtown is a visual arts delight, thanks to "Art You Can Sit On." The Idaho Falls Historic Downtown Foundation brought in 18 "sculptural seats", that are placed through our downtown and there are 21 more benches placed along the greenbelt. The seating not only allows pedestrians a resting place, it is a delightful art attraction. The works are visually stunning. Some capture images of the Snake River and local wildlife while others are more whimsical including a skateboard, stack of pillows, and a bench with legs and feet.
For a map and more information, visit Idaho Falls Arts Council, Art You Can Sit On
The Idaho Falls Cultural District includes many other important ingredients such as the commercial art galleries, ceramic studios, dance studios, a film theatre (Centre Theater) that shows films and Chesbro Music Company with the largest offering of printed music in the west. Delightful public art such as the Fur Trapper on the greenbelt and at the end of B Street, Wilson Rawls statue on the Library Lawn, historic Taylor's Crossing replica and Japanese Stone Lanterns in Sportsman Park graces the Cultural District. Finally, running right through the heart of the Cultural District is, of course, the beautiful Snake River, Greenbelt and Falls, Idaho Falls busiest tourist attraction.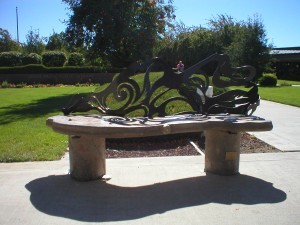 CIVITAN PLAZA:
The Idaho Falls Civitan Club along with the IFDDC would like you to be a part of this exciting plaza. In the center of 'Historic Downtown' is a lovely Plaza w/ stage and seating for future events. YOU can order your personalized paver with your name engraved. This will be placed among many prominent, historical figures that have made our community what it is today! Call us at 208-535-0399.