The Peking Acrobats
February 7 @ 7:30 pm

-

9:30 pm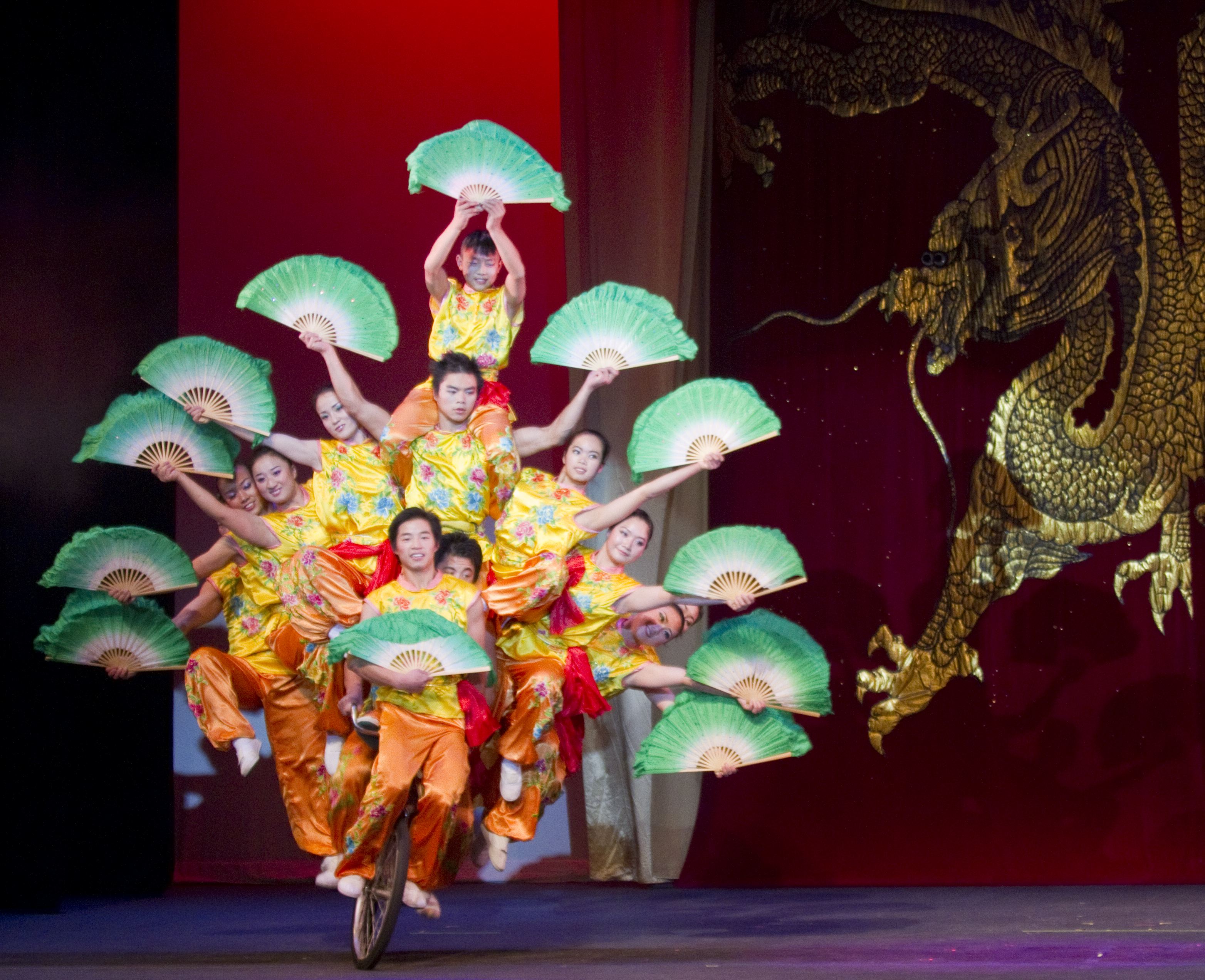 For the last 30 years, THE PEKING ACROBATS® have redefined audience perceptions of Chinese acrobatics. They perform daring maneuvers atop a precarious pagoda of chairs; they are experts at trick-cycling, precision tumbling, somersaulting, and gymnastics. They defy gravity with amazing displays of contortion, flexibility, and control. They push the envelope of human possibility with astonishing juggling dexterity and incredible balancing feats, showcasing tremendous skill and ability. They are masters of agility and grace. Often accompanied by live musicians skillfully playing traditional Chinese instruments and high-tech special effects that coalesce with the music and awe-inspiring feats to create an exuberant entertainment event featuring all the excitement and festive pageantry of a Chinese Carnival! At their many engagements THE PEKING ACROBATS celebrate over 30 years of awesome entertainment with their fans, young and old!
THE PEKING ACROBATS have been featured on numerous television shows and celebrity-studded TV Specials.
THE PEKING ACROBATS are on the cutting edge of technology, having appeared on HDNet TV'S "In Focus" Series. They appeared regularly in 3D on NBC/Comcast's new 3D Channel. THE PEKING ACROBATS were selected by HDNet and NBC/Comcast to be among the first performing ensembles of their kind to participate in such innovative technologies. These appearances reaffirm THE PEKING ACROBATS commitment to bringing their unique and ancient art form and cultural tradition into the 21st Century!
They set the world record for the Human Chair Stack on Fox's GUINNESS BOOK PRIMETIME TV show where they astounded audiences with their bravery and dexterity as they balanced six people precariously atop six chairs 21 feet up in the air, without safety lines! THE PEKING ACROBATS are also making the scene on the silver screen as Company members were featured in Steven Soderbergh's hit film Ocean's 11 playing along with Hollywood's elite such as Julia Roberts, Brad Pitt and George Clooney. PEKING ACROBATS' alumnus Shaobo Qin appeared in that film's three sequels, Ocean's 12 and Ocean's 13, and, he was featured in the ladies version, Ocean's 8, featuring Saundra Bullock, Helena Bonham-Carter, and many other major film stars.
THE PEKING ACROBATS also perform incredible Symphony Concert experiences! They have played the Hollywood Bowl several times, with the Hollywood Bowl Orchestra, and, with many other world renowned Orchestras across North America. Please see our SYMPHONY CONCERTS page for more information on these incredible entertainment events. THE PEKING ACROBATS have played six European Tours between 2005 and today, where they thrilled international audiences in England, Italy, Belgium, Switzerland, Portugal, and the Netherlands. They have played world-wide throughout Canada, South America, Southeast Asia and many other countries. They look forward to many more such tours as they bring their ancient artistry to ever-widening audiences.
A performance by THE PEKING ACROBATS, therefore, brings with it the opportunity to view the epitome of a rich and ancient folk art tradition, highlighted by today's technology melding the ancient and traditional with the modern wonders of the 21st Century. As the Seattle Times reports: "Nearly everything THE PEKING ACROBATS did last night was amazing – and stunning, and breathtaking and WOW!" and Clive Davis of the New York Post sums it up thusly: "THE PEKING ACROBATS [are] pushing the envelope of human possibility. Pure artistry!"